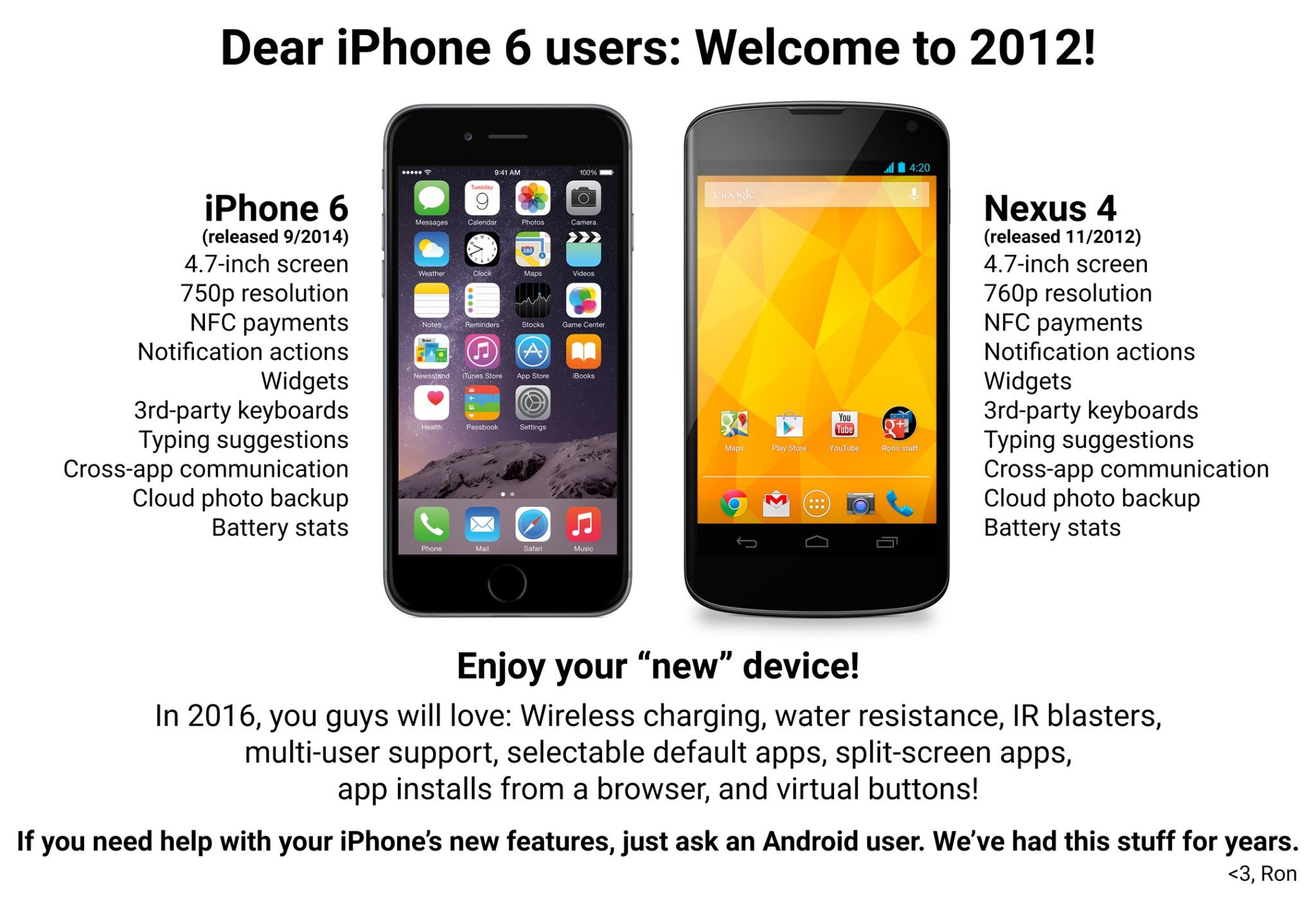 The comparison of Apple's latest iPhone 6 with a 2012 Nexus 4 (Original tweet: https://twitter.com/RonAmadeo/status/509424207474999297) prompted me to write a post. It is not about what you have, it is about how it works. Samsung and other android phone manufacturers have always packed feature on feature to next release of a product. It was a mode of competing after Apple launched the original iPhone, a remarkable leap in how a cellphone was conceived and how it worked back in 2007 by Apple. Existing and emerging cellphone manufacturers such as Samsung had to sprint to be in the race.
A fantastic technology company Samsung, that it is, competed by packing feature after feature and pushed it to its latest release of devices at a rapid phase. Although the design may have been inspired. However, with Android and support of another technology superstar, Google, it found a way to compete and it did.
Apple always was (and hopefully is) about making awesome devices in how it works, not a device with latest and most up to date features. If you have never used Apple devices, it is hard to appreciate.
If you want most feature loaded device, try picking up and using a prototype at some lab (an exaggerated view, not to be taken literal for the argument). HD display and such features are just a way to highlight in the marketing collateral, just like some camera manufacturers keep adding higher megapixel with hardly any improvement to image sensor itself. A human eye can not discern those many thousands of pixels in such a small screen. A delightful consumer experience in consumer electronics is what Apple pioneered. While the rest of the consumer electronics industry was competing on what the device can do, Apple talked about what you can do with the device. A feature rich technologically advanced device although is important, I wouldn't mind taking a step slower to be delighted by how it all works.
Having said that, I believe Apple is not creating the magic and delighting me as it did during the Jobs era. I believe Apple is slowly losing its way and becoming just another big successful technology company, like many others. Without the genius of Jobs, it is no doubt difficult. What is surprising is the principles or "success strategy" of Jobs written and talked about so much are so easy to understand but so difficult to follow – even for people who worked with him day to day for years! It will be a dark phase with little progress in consumer electronics if the basis of competition is latest available technology features.
P.S.: I worked for Samsung and Google. So I appreciate the awesome technology we made there. I even came close to taking up a PMM role at Apple and know a thing or two about HD video, megapixels and such. However, all views expressed here are purely personal and are written as an outside observer with information available to general public.